Lead partner: IDIADA
Connected Control strategies and predictive maintenance, hybridisation and waste heat recovery developments will lead to at least 10% energy saving.
Connected strategies and predictive maintenance services
VOLVO complete hybrid powertrain
Ford Otosan Hybridisation
IRIZAR Hybridisation
VDL Hybridisation/Electrification
FPT Waste heat recovery/E-turbo
DAF
---
1. Connected strategies and predictive maintenance services
Connected strategies and predictive maintenance services for trucks and coaches. Predictive control and smart auxiliaries: the advanced strategies exploit the connected services, for the optimisation of the eco-routing, eco-driving, energy management system, battery charging strategy, and thermal management strategy. In addition, the developed strategies for the predictive maintenance will lead to energy, CO2 and emissions reduction, for different types of vehicles, powertrains and fuels considered in the project. Energy reduction for different strategies depends on the route type (urban, suburban, highway etc.) and the level of connected services of both the baseline and the specific use case (IFPEN, IRIZAR, VDL, FORD, TECNALIA, DAF).
Goals:
Up to 5% with Eco-routing;
Up to 10% with Eco-driving;
Up to 5% for hybrid energy management (non-additional).
2. VOLVO complete hybrid powertrain
VOLVO complete hybrid powertrain with high efficient ICE concept, novel electric motor and sizing of battery. Optimisation with predictive control strategies in an integrated approach on system level; with integrated novel components and concepts such as closed coupled after treatment with improved performance for hybrid application, includes UC 1.2 right sized engine concept. New electric motor design with improved performance for hybrid application, predictive model based control system for a complete hybrid powertrain: Air-path and combustion MPC with electric controlled actuators including, engine and EATS control with reduced margins to emission constraints for hybrid electric application, dynamic engine model from MPC solution to be used in energy management and gear shifting strategies/, operation status and capability (VOLVO).
Goals:
12-15% Energy saving by:
Engine platform 4-5%;
Hybridisation 3-6%;
Energy management 3-4%.
3. Ford Otosan Hybridisation
Ford Otosan Hybridisation: The e-axle development and implementation into the hybrid powertrain is the key innovation and will lead to a major benefit of fuel economy improvement. This includes the multiple speed of e-axle as the electric motor will be operated in the most energy efficient zone. The predictive hybrid energy management will enable optimum utilization of the engines and enable the best possible distribution of torque demand between ICE and electric motor, includes of zero emission drive for a limited range.(FORD, FEV, RWTH, IFPEN, VUB).
Goal: 10% energy saving
4. IRIZAR Hybridisation
IRIZAR Hybridisation – Optimisation of hybridization, customized HCM (Hybrid Control Module), and smart auxiliaries such as HVAC (fuel consumption will decrease from 20.4 l/100km to 18.3 l/100km) (IRIZAR, IDIADA, IFPEN).
Goal: 12% energy saving
5. VDL Hybridisation/Electrification
VDL Hybridisation/Electrification – in the new VDL ZUEZ hybrid coach demonstrator, the optimized hybrid drive train modes, e-auxiliaries and long range data predictor (connectivity) will be implemented (IFPEN, IDIADA, SIE, TUE, VDL ETS & VDL Bus (Third party).
Goal: 11% energy saving
6. FPT Waste heat recovery/E-turbo
Electric development, integration and testing of energy recovery subsystems, includes [1] Waste heat recovery (the new WHR system, installed after the ATS on the exhaust line, is based on a Rankine cycle, is capable of extracting heat from the exhaust gas and produce electrical energy) and [2] E-Turbo (turbocharger with an electric machine mounted on the shaft) will replace the current turbocharger. The E-Turbo will function as a generator in its normal operation, and as an electric motor to accelerate the compressor in transient conditions, helping the engine reach the desired operating point more quickly. The energy harvested by the E-Turbo will be supplied to an e-Flywheel which, in turn, will supply torque to the driveline, reducing the load on the thermal engine (FPT, IVECO, GARRETT).
Goal: 12% energy saving
7. DAF
The improvements (vehicle speed control, incl. e-horizon, to avoid using foundation brake and reduce effect internal engine friction by longer time – Ecoroll) from the Imperium project (3%) will be taken over. And lower aero drag and rolling resistance (tractor and trailer) -Lower power need to drive the vehicle for the same vehicle speed (3%), combined with the High engine efficiency of UC2.1 (4%).
Goal: 10% energy saving
---
Overall goal:
Total energy saving 10% through electrification (including connectivity and system measures).
Use case UCC4 focus on demonstrating the potential for achieving over 10% of energy saving, by combining high efficiency thermal engines with innovations addressing hybrid electrification functionalities; including predictive powertrain & energy management control, waste heat recovery, electric auxiliaries, and novel connected strategies.
Demonstrate the potential of powertrain electrification and novel connectivity strategies for achieving the project objective of at least 10% in total energy saving in LH truck & coach applications;
UCC4 has 7 use cases of which one on connectivity, the other 6 focus on total energy saving per OEM demonstrator;
Identify the split in total energy consumption gains (compared to the baseline) for each use case, considering hybridisation concept and energy management / connectivity strategy;
Experimental validation performed in WP2 (ST2.4) will be supported with virtual simulation in the LMP platform to get final efficiency evaluation.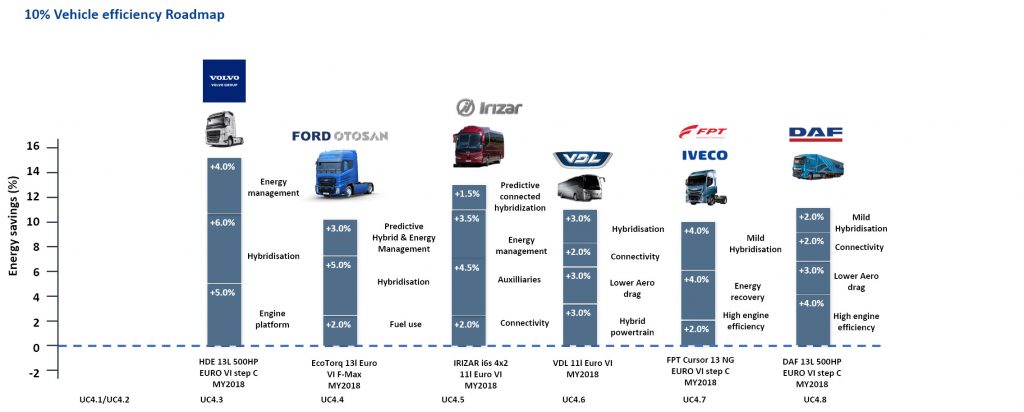 ---
Involved partners