Umicore is a materials technology group. It focuses on application areas where it knows its expertise in materials science, chemistry and metallurgy can make a real difference. Umicore generates approximately 50% of its revenues and spends approximately 80% of its R&D budget in clean technology, such as emission control catalysts, materials for rechargeable batteries and photovoltaics, fuel cells, and precious metals recycling. Umicore's overriding goal of sustainable value creation is based on this ambition to develop, produce and recycle materials in a way that fulfils its mission: materials for a better life. The Umicore Group has industrial operations on all continents and serves a global customer base; it generated a turnover of EUR 13.7 billion (3.3 without metal) in 2018 and currently employs some 10.000 people.
As early as 1968, the company began research in the field of emission control catalysis for automobiles. In the following years, the company managed to gain a favourable position with almost all automakers of note in America, Asia, and Europe with its three-way and diesel catalysts. Today Umicore is one of the leading suppliers of emission control catalysts in the world.
Umicore's automotive exhaust gas aftertreatment catalysts development center, with more than 220 employees, is located in Hanau, Germany. Besides well-equipped labs for catalyst preparation and performance in lab, engine and vehicle test benches testing, there is access to the standard characterisation techniques: XRD, XPS, SEM-EDX, TEM, DRIFT, TGA, BET, TPD, TPR, etc. Access to the full range of analytical techniques is possible via collaborations with public research institutions and universities.]]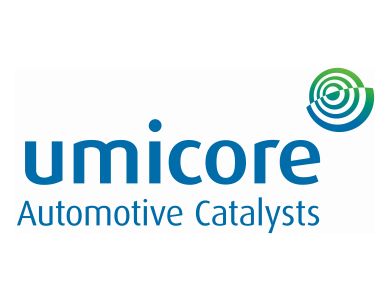 Located in Hanau Wolfgang, Germany
Visit the Website
In the LONGRUN project, UMICORE will contribute in the development of exhaust gas aftertreatment catalysts, for systems for stoichiometric gas combustion concept with biomethane, and for engines operated with Diesel and optionally with blends of renewable alternative liquid fuels including catalyst testing and provision of catalyst prototypes for testing at partners.